The Proctor District was established in Tacoma's North End nearly 100 years ago. Today, our Proctor District is home to over eighty unique retail specialty shops, dining, entertainment and service oriented businesses. It's easy to stroll, shop, eat and be served in Tacoma's Historic Proctor District. You can find everything you're looking for in the convenient "village" of Proctor.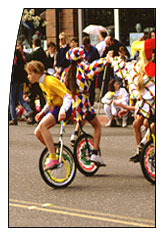 Having a dinner party? Shop for everything you need at one of our two full service grocery stores. Need to buy a birthday or holiday gift? You're sure to find the perfect gift at one of our several specialty shops. Nothing to wear? Select a unique outfit from one of our women's clothes stores. Friends coming in from out of town? How about going out to a dinner at one of our 13 restaurants and then a movie at one of the country's longest running theaters?
Proctor is a family oriented District and offers a toy store and children's resale clothing. We provide all of the everyday services you may need as well. From investments to banking to health and beauty, Proctor has it all located within a three block walking distance. Proctor offers all public services such as a post office, elementary school, middle school and church.
For a small town feeling in the midst of a large city visit the Proctor District in Tacoma's North End.